Keynote speakers
Prof. Dr. Christian Bizer
University of Mannheim, Germany

Christian Bizer explores technical and empirical questions concerning the development of global, decentralized information environments. He has initialized the W3C Linking Open Data community effort which is interlinking large numbers of data sources on the Web. He co-founded the DBpedia project which derives a comprehensive knowledge base from Wikipedia. He also initialized the WebDataCommons project which monitors the deployment of RDFa, Microdata, and Microformat data on the Web by analyzing large Web crawls. Further results of his work include the Named Graphs data model, the D2RQ mapping language, the Silk linking framework, and the Berlin SPARQL Benchmark. Christian Bizer holds an appointment as full professor at the University of Mannheim. Before moving to Mannheim, he headed the Web-based Systems Group at Freie Universität Berlin.
Link to Web page: http://dws.informatik.uni-mannheim.de/en/people/professors/prof-dr-christian-bizer
Title of presentation: Evolving the Web into a Global Dataspace – Advances and Applications [abstract]
Prof. Emanuele Della Valle
DEIB – Politecnico di Milano, Italy

Emanuele Della Valle is assistant professor at the Department of Electronics, Information and Bioengineering of the Politecnico di Milano since 2008. He performs researches that are justified and guided by business needs in smart city, social media analytics, and, previously, in health care and life science. In more than a decade of research, his research interests covered Semantic Web, Big Data, Stream Management Systems, Search Engines, Rank-aware Databases and Service Oriented Architectures. The stream reasoning concept (an approach to master the velocity and variety dimensions of Big Data) and its embodiment in the Continuous SPARQL query language are his major research contributions. He co-authored the first book in Italian about Semantic Web (2008), a book on Web Information Retrieval (2013), 15 journal articles and more than 50 research papers in major conferences. His h-index is 20. From 2001 to 2008, he worked in CEFRIEL. Between 2001 and 2004, he worked in strategic consultancy IT projects of CEFRIEL in eBusiness, eGovernment and eHealth. In 2003, he started the Semantic Web Practice of CEFRIEL that he coordinated until 2008. He was Aggregated Professor of Knowledge Engineerig at Università dell'Insubria from 2006 and 2010.
Link to Web page: http://emanueledellavalle.org/
Title of presentation: Listening to the pulse of our cities fusing Social Media Streams and Call Data Records [abstract]
Dr. Harald Sack
Hasso-Plattner-Institut für Softwaresystemtechnik, Universität Potsdam, Germany

Harald Sack is Senior Researcher at the Hasso Plattner-Institute for IT-Systems Engineering (HPI) at the University of Potsdam and head of the research group 'Semantic Technologies and Multimedia Retrieval'. After graduating in computer science at the University of the Federal Forces Munich Campus, he worked as network engineer and project manager in the signal intelligence corps of the German federal forces. In 1997 he became an associated member of the graduate program 'mathematical optimization' at the University of Trier and obtained a PhD in theoretical computer science in 2002. From 2002–2008 he worked as postdoc at the Friedrich-Schiller-University in Jena. Since 2009 he is working as Senior Researcher at HPI. His current areas of research include semantic technologies, knowledge discovery as well as multimedia analysis & retrieval. He has served as Chair, Senior PC member or PC member of numerous international conferences and workshops. Harald Sack has published more than 100 scientific papers in international journals and conferences including several standard textbooks, two of which have also been translated to Chinese. He is founding member of the German IPv6 council and serves as its general secretary since 2009. He is co-founder of yovisto.com.
Link to Web page: https://hpi.de/meinel/lehrstuhl/team-fotos/senior-researcher/sack.html
Title of presentation: The Journey is the Reward – Towards New Paradigms in Web Search [abstract]
Dr. Wojciech Wiewiórowski
European Data Protection Assistant Supervisor – elected by European Parliament and the Council on December 4th, 2014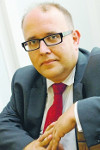 He was born on June 13th 1971. In 1995 he graduated from the Faculty of Law and Administration of the University of Gdańsk, and in 2000 he was awarded the academic degree of Doctor in constitutional law.
After graduation he was an editor and then a publisher in legal publishing houses. In 2002 he began to work as a lecturer at Gdańsk College of Administration, and since 2003 he was an assistant professor and the head of Legal IT Department at the Faculty of Law and Administration of the University of Gdańsk, with which he has been associated since 1995.
Since 2006 he has been working for public administration. He was among others adviser in the field of e-government and information society for the Minister of Interior and Administration, as well as Vice-president of the Regulatory Commission of the Polish Autocephalous Orthodox Church. In 2008 he took over the post of the Director of the Informatisation Department at the Ministry of Interior and Administration. He also represented Poland in committee on Interoperability Solutions for European Public Administrations (the ISA Committee) assisting the European Commission. He was also the member of the Archives Council to the Ministry of Culture and National Heritage. He is a member of the Polish Association for European Law.
In 2010 he was elected by Polish Parliament for the post of the Inspector General for the Protection of Personal Data (Polish Data Protection Commissioner) which he served by November 2014 being reelected for the second term in 2014.
Vice Chairman of the Working Party Art. 29 since February till November 2014.
The author of numerous studies, publications and lectures in the field of personal data protection, IT law, e-government and legal informatics. His areas of scientific activity include first of all Polish and European IT law, processing and security of information, legal information retrieval systems, informatisation of public administration, electronic signature and application of semantic web and legal ontologies in legal information processing.
Link to Web page: https://secure.edps.europa.eu/EDPSWEB/edps/EDPS
Title of presentation: Smart Data & Privacy by Design. Win-to-win
business models on competitive digital market [abstract]
---
Abstracts
Christian Bizer: Evolving the Web into a Global Dataspace – Advances and Applications
Motivated by Google, Yahoo!, Microsoft, and Facebook, hundreds of thousands of websites have started to annotate structured data within their pages using markup formats such as Microdata, RDFa, and Microformats. In parallel, the adoption of Linked Data technologies by government agencies, libraries, and scientific institutions has risen considerably. In his talk, Christian Bizer will give an overview of the content profile of the resulting Web of Data. He will showcase applications that exploit the Web of Data and will discuss the challenges of integrating and cleansing data from thousands of independent Web data sources.
Emanuele Della Valle: Listening to the pulse of our cities fusing Social Media Streams and Call Data Records
The digital reflection of our cities is sharpening and it is tracking their evolution with a decreasing delay. This happens thanks to the pervasive deployment of sensors, the wide adoption of smart phones, the usage of (location-based) social networks and the availability of datasets about urban environment. So while data becomes every day more abundant, decision makers face the challenge to increase their capability to create value out of the analysis of this data. This key note presents how advance visual analytics, ontology base data access and information flow processing methods can help in making sense of Social Media Streams and Call Data Records from Mobile Network Operators during city scale events. Real-world deployments demonstrate the ability of those methods to advance our ability to feel the pulse of our cities in order to deliver innovative services.
Harald Sack: The Journey is the Reward – Towards New Paradigms in Web Search
Without search engines the information content of the World Wide Web would remain largely closed for the ordinary user. Current web search engines work well as long as the user knows what she is looking for. The situation becomes problematic, if the user has insufficient expertise or prior knowledge to formulate the search query. Often a sequence of search requests is necessary to answer the user's information needs, whenever knowledge has to be accumulated first to determine the next search query. On the other hand, retrieval systems for traditional archives face the problem that there is possibly not always a result for an arbitrary search query, simply because of the limited number of documents available. Semantic search systems (try to) determine the meaning of the content of the archived documents first and thus in principle are able to overcome problems of traditional keyword-based search engines concerning the processing of natural language. Moreover, content-based relationships among the documents can be used to filter, navigate, and explore the archive. Content-based 'intelligent' recommendations help to open up the archive and to discover new paths across the search space.
Wojciech Wiewiórowski: Smart Data & Privacy by Design. Win-to-win business models on competitive digital market
To be announced…